Are you planning a special event near beautiful Ocean County, New Jersey, and you want it to be truly memorable? Look no further than balloon decors! Balloons have been a go-to for event decorations for years. With the wide variety of options available, you can create a look that perfectly suits your occasion, and our Celebration Creations team is here to make it happen.
Learn more about the different types of balloons, their uses, and how they can elevate your event to the next level. Whether you're hosting a birthday party, wedding, or corporate event, understanding the different types of balloons will help you make the right choice for your event balloon decor.
Different types of balloons for Your Event decorations
Latex balloons
Latex balloons are versatile and eco-friendly. They come in a rainbow of colors, shapes, and sizes, perfect for almost any event. They're cost-effective and can be used for everything from arches and garlands to centerpieces.
Latex balloons can be used for any event because they come in many colors, shapes, and sizes. You can fill them with air or helium, which gives you a lot of options for making beautiful balloon decorations.
Benefits of latex balloons
The cost of latex balloons is one of their key benefits. Latex balloons are less expensive than other balloon varieties, including foil balloons, so you may make a bigger show without going over budget.
They are also simple to work with since they can either be inflated manually or with a balloon pump for larger amounts. Latex balloons are frequently used to decorate the event venue and to create balloon garlands, centerpieces, and arches.
Remember that latex balloons cannot be reused because the rubber naturally deforms when inflated.
They also lose their shape and deflate more quickly, which makes them more appropriate for one- or two-day applications. However, they are a popular option for a variety of occasions due to their vivid colors and adaptability.
Foil balloons
Foil balloons are a durable choice that's also reusable, making them more sustainable. They're perfect for occasions where you want to create a touch of elegance, such as weddings or corporate events.
These balloons come from a thin, metallic material that gives them a shiny and reflective surface. Foil balloons are typically used for producing balloon figures and shapes, as their sturdy material allows for intricate designs.
Benefits of foil balloons
Foil balloons do not biodegrade like latex balloons do. However, if you intend to use them often, their reusable nature makes them a more environmentally friendly option.
These include a self-sealing valve that makes inflation quick and simple, and they can be filled with air or helium. Their reflective finish gives an air of refinement to any occasion and makes them pop in pictures.
Foil balloons typically cost more than latex balloons. However, they are a great option for special events like weddings, anniversaries, and corporate gatherings due to their robustness and distinctive design.
Letter balloons
Letter balloons are fantastic for personalizing your event. You can spell out names, event themes, or any message you want. They're a fun addition to birthdays, baby showers, or promotional events.
The festive look of letter balloons adds a fun and memorable element to your decor. They can be combined with different types of balloons for birthdays and other celebrations to create eye-catching displays and photo backdrops.
Whether you want to showcase the name of the birthday celebrant, the event's name, or your store's logo, letter balloons are an excellent choice.
Custom balloon Bouquets and arrangements
For truly unique decorations, go for custom balloon bouquets and arrangements. These offer endless possibilities in shapes, sizes, and designs. They're ideal for weddings and corporate parties where making an impression is key.
Balloon bouquets can help to extend the theme of an event beyond a balloon arch or columns – bringing it the colors and textures into other areas of the venue in view of your guests.
You can send balloon bouquets and have them delivered to your loved ones, thus bringing the celebration and surprise to them directly.
For important occasions like weddings and business gatherings where you want to leave a memorable impression on your guests, custom balloon decorations are ideal. Skilled balloon decorators like the experts at Celebration Creations, can assist you in realizing your vision and producing breathtaking displays that will astound everyone.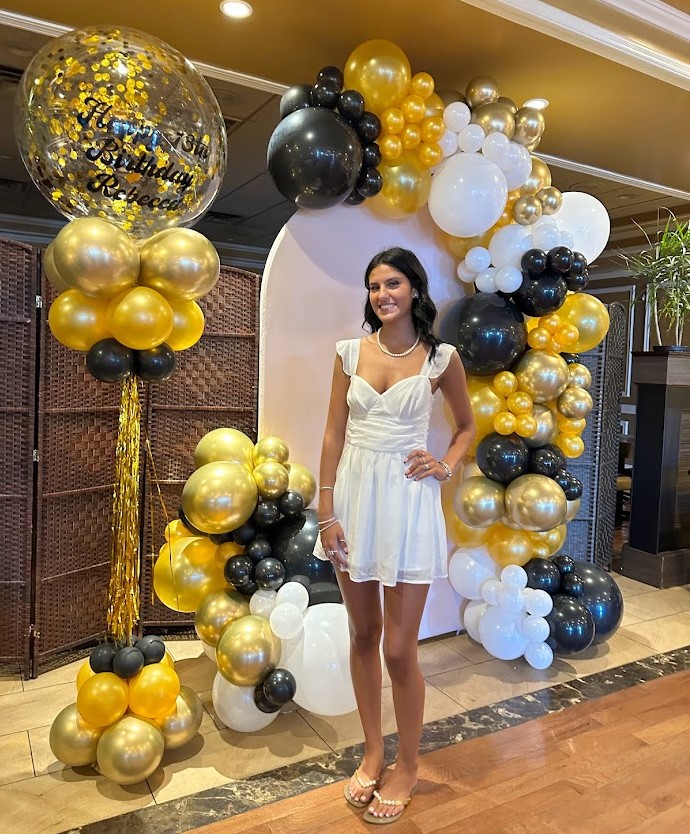 Balloon décor for business
Balloons aren't just for personal celebrations; they're fantastic for businesses too! In Ocean County, you can use balloons to attract more customers, creating an inviting atmosphere both inside and outside your establishment. Our pros at Celebration Creations can help you choose the right balloons that reflect your business's personality and message.
When it comes to balloon décor for business, you have various options to choose from. Balloon arches and columns can be placed at the front door or around specific areas of your store to create a grand and festive entrance. 
Balloon decorations can also be used for product launches, store promotions, and other special events to producing an eye-catching backdrop.
To ensure that your balloon décor aligns with your brand image, it's essential to work with a professional balloon decorator. They can help you choose the right colors, shapes, and designs that reflect your business's personality and message.
Different types of balloon arches
Balloon arches are showstoppers, serving as eye-catching focal points for various events. In Ocean County, you'll find different types, so you can choose the one that suits your theme and space requirements.
Classic balloon arches
Traditional balloon arches are made up of several balloons arranged in the form of an arch. You can alter them to fit the color palette of your event.
Spiral balloon arches
A modern take on a classic design, spiral balloon arches use balloons arranged in a spiral pattern to produce a dynamic impression. Spiral balloon arches are perfect for events where you want to create a visually striking entrance or focal point.
Organic balloon arches
Organic balloon arches provide a more whimsical appearance. They can be made using balloons of different sizes and forms, which will make them appear organic and flowing.
String of Pearls Balloon Arches
Ocean County events love our string of pearls balloon arches. These unique arches add a touch of elegance and a whimsical feel to your event. They are perfect for weddings, baby showers, and corporate gatherings.
Different types of balloon columns
Balloon columns can be used to frame an entrance, decorate a stage, or add a touch of class to your event space. In Ocean County, like balloon arches, you have various types to choose from.
Traditional balloon columns
Traditional balloon columns consist of a stack of balloons arranged in a vertical column. These columns can be customized with different colors and patterns, allowing you to match them to your event's theme.
Spiral balloon columns
Spiral balloon columns are a variation of the classic column design. Instead of a straight stack of balloons, these columns feature balloons arranged in a spiral pattern, creating a dynamic and eye-catching effect.
Spiral balloon columns are often used to add a whimsical touch to events like birthdays and baby showers.
Themed balloon columns
For a more elaborate and decorative look, consider themed balloon columns. These are perfect for corporate events, trade shows, and themed parties in Ocean County.
Exploring a World of Balloon Decor: The Perfect Touch for Your New Jersey Celebration
In Ocean County, New Jersey, Celebration Creations has made a name for itself by bringing balloon decor to life at a wide range of events. You've heard about balloon arches and columns, but the realm of balloon decor is vast, offering numerous options for your special day.
Balloon centerpieces
Adding a burst of color to your tables and infusing a festive atmosphere into your Ocean County event is a breeze with balloon centerpieces. These creations, expertly crafted using latex balloons in various sizes and colors, can be tailored to match your event's theme seamlessly.
Balloon walls
For those looking to create a captivating backdrop at their New Jersey celebration, balloon walls are a popular choice. These walls are meticulously fashioned using party balloons, available in various sizes and colors. They can be arranged in any pattern or design of your choice. Perfect for photo booths, stage backdrops, and event entrances, balloon walls are the ideal canvas for your creativity.
Balloon garlands
Balloon garlands offer a straightforward yet striking way to decorate any event in Ocean County. These garlands consist of balloons strung together in an unbroken line, with each balloon linked to the next. They can serve as backdrops for photo booths, stunning table centerpieces, or dynamic wall decorations.
Balloon Ceiling Decor
If you're seeking an attention-grabbing decoration that's sure to turn heads at your New Jersey celebration, look no further than balloon chandeliers. These eye-catching arrangements are formed by suspending clusters of balloons from the ceiling. The result is like to having a vibrant canopy of balloons overhead, creating a joyful ambiance of fun.
Balloon sculptures
From whimsical animals and beloved characters to abstract shapes or even custom replicas of your favorite brand logos, balloon sculptures are the perfect way to infuse a visually stunning element into your celebration. These artistic pieces can be composed of various types of balloons, both singles and clusters, allowing for endless design possibilities tailored to your unique occasion.
Celebration Creations is here to bring your balloon decor dreams to life
Balloons are a versatile and affordable way to elevate your event decor in Ocean County, New Jersey. With Celebration Creations, you can create a vibrant and festive atmosphere that will leave a lasting impression on your guests. Let your creativity soar, and make your next event unforgettable with the magic of balloons. From birthdays to business events, balloons are the secret ingredient for a memorable celebration.
Call 732-378-9922 or Contact us now For A New Jersey balloon Decoration Quote